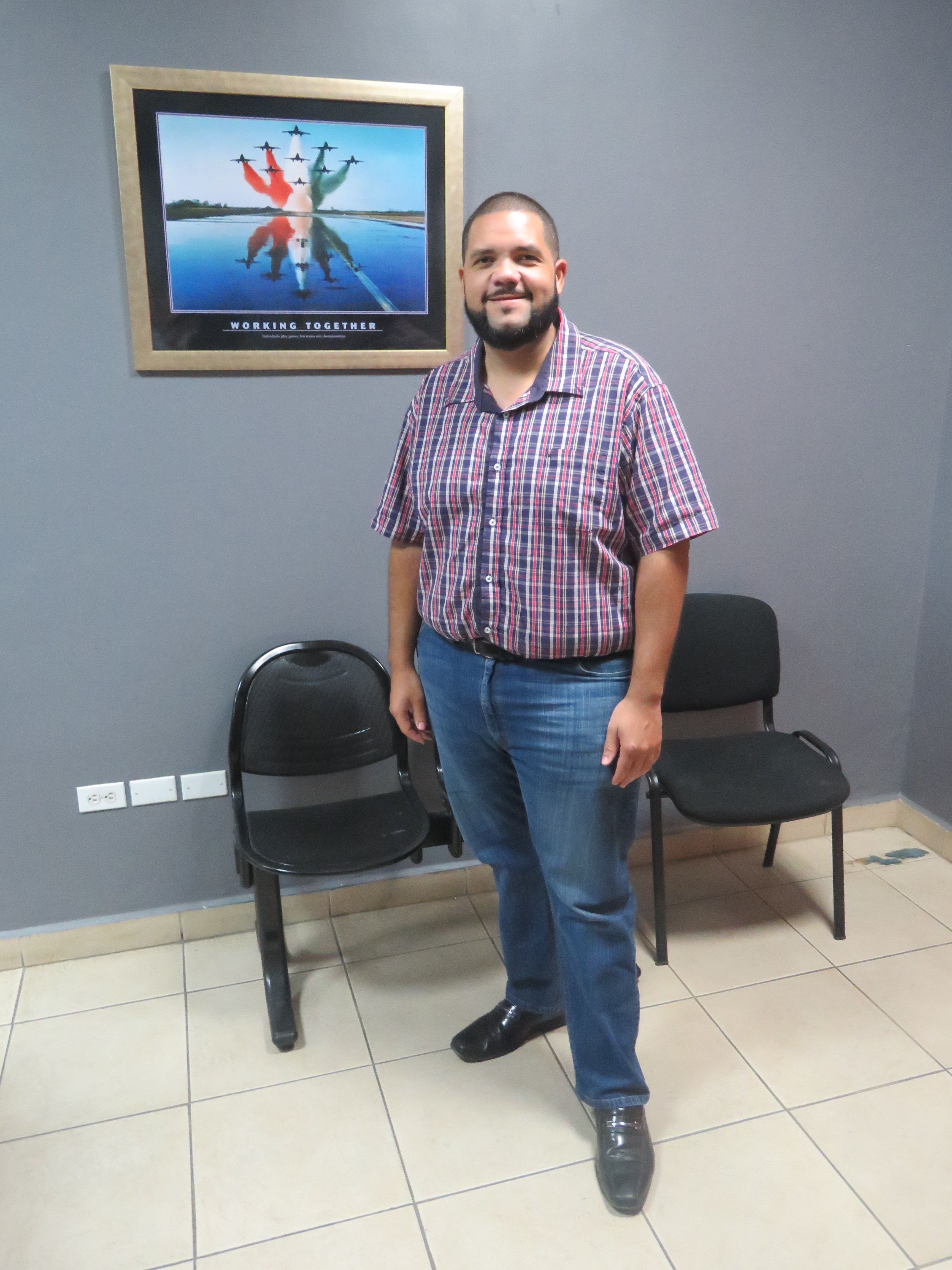 Jan 31, 2020
"If you have a soul as a company you should do this, giving feels good"
Experitours supports Happy Community Initiative
"If you have a soul as a company you should do this, giving feels good"
ORANJESTAD — The Happy Community Initiative (HCI) is a visitor charity program that helps Aruban teens to stay on the right track by offering high-quality after school programs. One of the ways to donate to this unique cause is by booking a tour with Experitours, or better; an experience because this dynamic tour company offers great tours with personal attention that go beyond the standard offerings.
Mark Benson, owner of Experitours: "We are a small tour company that started three years ago and we are doing daytime historic walking tours. In the evening we organize food tours. Since 2018 we are also operating the California Lighthouse." All their guides have gone through a thorough training about how to give tours and to gain knowledge about Aruba's history. Experitours also had them participating in the Aruba Certification Program. Additionally the experts did some courses with the international organization Aquila which trains tour guides. "The walking tour is a tour that shows Aruba's capital Oranjestad in about thirty different sites like monuments, landmarks, important buildings and explains about the island's culture. Guests get to taste two local snacks, pastechi and pan bati. We share our local customs with our guests and they love it. You really get the local flavor," Mark says. The evening walk is more focused on food and visits five different restaurants. The concept behind this tour is 'taste the world without a trip' and you taste five different cuisines: Aruba, Dutch, Cuban, Caribbean and Italian. The Lighthouse is another excursion they offer where you can climb the 117 steps to get to the top and view an unbeatable 360 degrees panorama of the island. "In 2016 the Monumentfunds finalized a one million dollar renovation of the Lighthouse and they made it accessible to go up which was not the case before except for the lighthouse keeper. 2018 we got the right to manage it, it is open from 9am to 7pm. We have two local experts available to explain you about anything."
Book and support
Experitours collaborates with HCI for a few reasons, says Mark. "In Aruba we have a lot of foundations but you cannot support them all. The Happy Community Initiative are already active in the field of giving, they know which are the organizations that work honestly, they have done their research and we trust them to use the funds wisely. We decided to support this initiative because of that. We have had great response from the guests since we added the $1 donation to every booking." He explains that everything is very transparent as each booking show the $1 as a donation to HCI and links to their website in case guests wish to know more about it. "Basically the $1 charge is for every person that is booked. It is pretty common for Americans to donate and we have had no complaints at all, only positive feedback. We are very happy to support this initiative." Book your walking tour and learn more about Aruba's history, make a reservation at https://arubawalkingtours.com/bookings/ or email info@arubawalkingtours.com or call +297 699.0995 – USD 1 goes to support the Happy Community Initiative.
Great goal
HCI's goal is very good in his opinion as nowadays most people have to work more than one job so parents many times cannot stay at home with their child. "In the past this was solved by leaving the kids with grandma however nowadays even grandparents continue to work to make ends meet. There are programs where the teens can get after school care, not only in the sense of education, but also the play part to learn their social skills grow. It is a much needed and noble cause." He sees it very worthwhile to invest in the youngsters and making sure that they do not go on a bad path which is very easy with all going on in social media. "They are the future of Aruba. We need to invest in our children but also in trained adults to guide them where parents can't. With HCI you do all of that. It has as short term affect because the kids are not negatively on the streets but it has also a long term affect as they will be a key part of our community in the future." If we want to continue to have a good base of locals and not losing our values, it is very important to invest in the next generation at an early stage, Mark concludes.
His advice to business owners would be to realize that guests are more and more focusing on the values of the company they choose for to organize their vacation activities. "Is this a family company or is this a sustainable company or is this a company supporting charities and so on. To choose a sustainable goal is important and it is beneficial to your company. We selected HCI which is a great and easy to manage initiative also backed up by CEDE which has a strong credibility in the community. There is nothing to lose, it only shows that you are caring. If you have a soul as a company you should do this. Giving feels good."
Our Newest Column is All about YOUth and Happiness
ORANJESTAD — Our newest column Happy Community Initiative is published bi-weekly on Thursdays in Aruba Today. We inform you about this dynamic, new project from a different angle to give you a complete feel, so follow us and stay engaged!
The Happy Community Initiative is a visitor charity program that you can help strengthen Aruba's community by donating to good causes. CEDE Aruba, a dynamic community foundation, the Aruba Timeshare Association (ATSA), the Aruba Tourism Authority and several companies collaborate in this platform for visitors who would like to make a donation, but also volunteer in the future. The priority is set to support projects for Aruban youths. CEDE Aruba will make sure that the donations reach meaningful projects of local non-profits, based upon quality and transparency of finances of the offered programs. In this manner, you can be assured that your donation will reach its goal! With your donation, you support Aruban children with after school programs, mentorship activities and social support. You can donate at the kiosks in the lobby of several hotels (Costa Linda, Playa Linda, Casa del Mar, Paradise Beach Villas and La Cabana) or you can donate on the website: https://happycommunityaruba.org/donate. Goal is to raise $110K to set up the program, at this moment $4550.00 is collected. Help us reach our goal!
Copyright CEDE Aruba